Highlights:
Multiple  Maple Blues Awards  – "Harmonica Player of the Year" nominee.
(Canada's national blues awards)
Gold Record: The Toronto Blue Jays Theme Song – "OK Blue Jays"
Recorded on over 1,800 Individual Album Cuts, Movie Scores and National Jingles
Two Double Platinum Record Credits
EPK
Quotes / Testimonials:

Download:
Says Who??.doc
BIO
The Big Picture:
Roly Platt has enjoyed a long and musically rewarding career as both a live and studio harmonica player in the Canadian scene for the past 40 years. He has had the pleasure of touring and recording with many greats in the business, including: Matt Minglewood, Dutch Mason, David Clayton-Thomas, Rita Chiarelli, Suzie Vinnick and Ronnie Hawkins.
After getting his start practicing to his older brother's Blues and Bluegrass records, Roly's early years on the road quickly introduced him to a wider variety of music including Country-Swing, Country Rock, R&B & Traditional Jazz. This experience of having to incorporate harmonica into some of these non-traditional roles helped form his melodic approach to playing and define his unique style. As Roly puts it, "None of the songs we'd play had any harp in the original versions, so I had to figure out how to fit something into these genres that sounded good, or I'd be out of work. That was the best schooling I could have asked for."
Roly's distinctive sound, versatility, and intuitive sense of "what works", has elevated him to "first-call" studio harmonica player in the Canadian recording scene. Roly had been recorded on over 1,800 individual album cuts, movie scores and national jingles and is now working on sessions for clients from around the globe via his home studio.
Touring Bands – Chronological Order:
Cement City Stompers, Hock Walsh, Max Mouse and the Gorillas, Roy Young, Mike McKenna, Dutch Mason, Matt Minglewood, Ronnie Hawkins, Rick Fines, John Findlay, Suzie Vinnick.
Albums / Sessions (partial list):
David Clayton-Thomas (3), Terri Clark, Susan Aglukark, Marc Jordan, Suzie Vinnick (2), The Ennis Sisters, George Canyon, Beverley Mahood, Joel Feenie, Jack Semple, Ronnie Hawkins, Matt Minglewood (3), World on Edge, The Stampeders, Rick Fines, George Meanwell, Bill Colgate, Jason McCoy, Rita MacNeil, Jamie Warren, Cassandra Vasik, Sharon, Lois, and Bram, Michael Brennan.
Jingles (partial list):
Ford, Chrysler, Labatt, McDonalds, Budweiser, Oreo Cookies, Shake and Bake, Toronto Blue Jays (OK Blue Jays theme), LCBO, The Keg, Pioneer, Toyota, Tim Hortons
Film / TV (partial list):
Soundtrack for Bollywood mega-hit film – "Delhi Belly", Ron James (theme – CBC sitcom pilot), Franklin The Turtle (animated series), Berenstain Bears (animated series), Rolie Polie Olie (animated series), Buffalo Girls (mini series), Megasnake (Film), The Dark (Film), Stars on Ice (TV special), CTV Sportsnet "Good old Hockey Game" (Opening theme), Canadian Country Music Awards.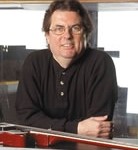 "I have worked with Roly Platt for over 30 years in many different musical situations. He is a first class musician and a first class human being. He's worked for me on a wide variety of recordings (records, jingles, tv shows) and is always an inspiration and a positive influence on whatever project he's involved with. He is, simply put, one of the best musicians I have ever worked with. He's blessed with amazing technical skills but he also has great taste, feel and musical instincts that can… Read more
Mike "Pepe" Francis – Guitarist / Producer / Music Director