Recent Session for Dean McTaggart
Roly's Début Album: Inside Out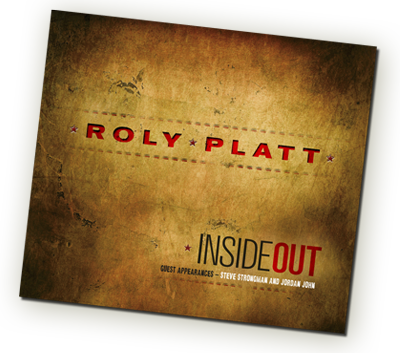 Play
Put it Where You Want I
Play
Good Mind to Wander (Featuring Steve Strongman)
Play
Ocean of Tears (Featuring Steve Strongman)
CD Credits:
Full CD Credits...
Produced by Lance Anderson
Inside Out is primarily an instrumental Blues album, with two special guest vocalists/guitarists –
Steve Strongman and Jordan John.
THE TRACKS:
1.    Put It Where You Want It / Joe Sample 4:58
2.    Mad River / Roly Platt 3:10
3.    Good Mind To Wander / Roly Platt, Steve Strongman, Lance Anderson 4:10    – Featuring Steve Strongman
4.    Congo Strut / Lance Anderson 4:30
5.    Over The Rainbow / Harold Arlen, E.Y. Harburg 5:29
6.    Rippin' It Up / Roly Platt 3:58
7.    Ocean Of Tears / Roly Platt, Steve Strongman 7:59    – Featuring Steve Strongman
8.    I Got A Woman / Ray Charles, Renald J. Richard 4:13
9.    Georgia On My Mind / Hoagy Carmichael 5:43
10.  Funk Shui / Roly Platt, Lance Anderson 3:27
11.  Bartender's Blues / James Taylor 4:31    – Featuring Jordan John
CREDITS:
Produced by Lance Anderson
Recording and Mastering by Michael Haas
Mixing by Michael Haas and Lance Anderson
Recorded, Mixed and Mastered at Inception Sound Studios, Toronto – August, 2014
All Arrangements by Lance Anderson except for: Good Mind to Wander and Ocean of Tears – Steve Strongman, Roly Platt
Bartender's Blues – Jordan John
CD Package Design by Roly Platt – www.PlatypusDesign.ca
Back Cover Photo by Randall Cook
CD Label Photo Bill Drummond – www.drummondphotography.com
Musician Photos by Mary-Rose McCardy
THE PLAYERS:
Al Cross: Drums
Russ Boswell: Electric and acoustic bass
John Tilden: Electric, slide and acoustic guitar
Lance Anderson: Piano, Hammond organ, Clavinet and Harmony vocals on Rippin' It Up
Roly Platt: Harmonica, (Mouth Organ, Tin Sandwich, Mississippi Saxophone, Spit Coffin, Misery Whistle) and lead vocals on Rippin' It Up
Steve Strongman: Electric guitar, lead/harmony vocals on Good Mind to Wander and electric guitar and vocals on Ocean of Tears
Jordan John: Acoustic guitar and vocals on Bartender's Blues
Neil Chapman: Electric guitar on Rippin' It Up, Mad River, I Got a Woman
THANK YOU:
Many forces have come together for the making of this, my début album. Forces by means of encouragement, financial assistance, advice and people's valuable time – still other forces on a more emotional and spiritual level which I'm now beginning to understand. I am extremely grateful for all the people in my life, my circle, who have helped me accomplish this.
Huge Thanks to: my wife and best friend Mary-Rose, who, along with her endless encouragement and support, patiently listened…and listened…to me throughout every stage; my son, Hunter, when at 12 years old, spoke a truth I needed to hear; sister Gill and brother-in-law Don, who have always been there for me on every level possible.
Thanks to: Lance Anderson, for the very generous gift of his time, guidance, passion for music and true dedication to this project; "The Killer Band", Lance, Russ, Al, John and Neil for their time, hard work and input; Steve Strongman, for taking time out of his busy schedule to co-write with me and play his ass off on our two tunes; Jordan John, for offering his time, ideas and incredible voice on a tune that has some history for both of us; Michael Haas, "The Invisible Man", for his high-level recording expertise and humour; Chad and Jacques at Inception; Suzie Vinnick, for always encouraging me to grow as a musician; Mako Funasaka, for his gentle "nudging"; Pepe Francis, for his generosity over the years, Whip and Kirsty, for their kindness, my friend Doug and the boys at the M.F.G., and to my "partners in crime" in the music world – Dave Murphy, Wendell Ferguson, Matt Minglewood, Ronnie Douglas Band, Joe Huron, Lou Moore and Wayne Buttery to name only a few.
And a Great Big Thanks – to all the music fans and industry folks who have, and
continue to give their support. This CD is for you.
Every 56 years I like to put out my own CD – so my timing is perfect!
Tangled Roots – Wayne Buttery and Roly Platt

Nominated for "Best Self Produced CD"
International Blues Challenge

in Memphis Tennessee 2011.

Track Titles

1 Sexy Ways – 3:06
2 Blues as Blues Can Get – 3:39
3 Mad River – 2:43
4 Deep Within These Lonesome Blues – 2:45
5 Blues by the Bay – 5:09
6 My Baby Got the Love – 3:03
7 Blind Man – 6:20
8 AA Booghee – 2:33
9 Who Cares About the Blues – 2:19
10 Can't Forget That Ole' Melody – 2:23
11 The Gypsy – 4:13

Play

Blues as Blues Can Get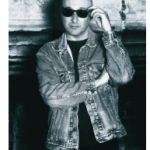 "I've only recently discovered Roly and his fantastic playing. I needed a harp session in a hurry here in the UK, and although half a world away, Roly did the most amazing e-session for me in superquick time, recorded a superb performance, and I now have his number on speed-dial ! He was extremely easy to communicate with, and very easy to work with regarding arrangement directions. I can't recommend him highly enough and I know we'll work together again soon."
Matthew Cang – Guitarist, Writer, Producer Bath, United Kingdom