"Roly is my first go to guy on harmonica. While being great at blues, he is also capable of much more. Melodies, accompaniments etc. I highly recommend him."
Lou

Pomanti
Owner / Music Director – Lou Pomanti Music Toronto, ON
"Roly is one of Canada's best harmonica players! Any style!"
Jack Semple
Guitarist / Producer Regina, SK , Canada
"For the past 20 years, Roly has been the "first call" harmonica player at Parker Szczmith Music. From music scores for animated children series' such as Berenstain Bears and Franklin The Turtle, to national jingles, Roly delivers great tracks – quickly and consistently. His versatility and melodic approach sets him apart from other harp players. Great feel, natural intuition, and his ability to take direction on the fly has made him a valuable asset on all our projects – saving us time and effort. He's the guy."
Ray Parker
Owner / Music Director – Parker Szczmith Music Toronto, ON
Reviews for Roly's Album: "Inside Out"
"International bluesmen Roly Platt & Thorbjorn Risager impress on debut offerings"
by Mike Rick: BluesPowR
Even several weeks into the new year, we're not ready to give up on 2014 quite yet. Not when it comes to having CDs as good as these to still tell you about, some recent releases from two non-U.S. bluesmen with rather different histories.
Roly Platt – Inside Out
A mostly instrumental affair that stretches from the spunky grooves of the opening "Put It Where You Want It" (Joe Sample) and downright elegant covers of classics like "Over the Rainbow" and "Georgia on My Mind" to the funky stylings of Platt's own "Funk Shui" and jazzy "Congo Strut", Inside Out also features four pretty terrific vocal tracks. Platt himself sings on one of them, the boogeying, Jerry Lee Lewis-style original "Rippin' It Up", while Jordan John lends vocals and acoustic guitar on the closing country ballad "Bartender's Blues" (James Taylor).
But the best of these tracks are the two co-written with and featuring Steve Strongman on guitar and vocals, the soulful mid-tempo "Good Mind to Wander" and the slow blues of "Ocean of Tears" with its tough lyrics like "You said you'd love me forever, but lonely hearts sometimes pretend/ I watch my life drift on by me, I wonder when did your forever end?" and "Send these tears to the ocean, so the ocean won't run dry/ take these tears of my broken heart, 'til there's no more, no more left to cry".
Platt's strong harmonica playing is nicely complemented by some fine work from his band, including some stinging guitar and rich organ on the shuffling boogie "Mad River" and the lively organ of Lance Anderson (who also produced the album) on the energetic "I Got a Woman" (Ray Charles), to cite but just a few examples. It would be difficult to imagine any better of a debut album for Platt, even if he had taken another decade or two to record it, which we're glad he didn't. Although we hope it isn't quite so long before we hear from Platt again, Inside Out does raise an interesting question of how different the industry might be if more musicians were this exacting in their recordings.
---
Maple Blues Magazine

"That this is a harmonica player's album is never in doubt. Platt's playing is uniformly inventive and tasteful. I want to start, though, with the one Platt vocal, a song he wrote that's just a stomper, "Rippin' It Up". If you're still sitting down during this, you're not well."
John Valentine
Toronto Blues Society –  Maple Blues Magazine
December 2014 Issue

---
Roots Music Report

★★★★★ Rating
"Like Sugar Blue, harmonica ace Roly Platt pushes the instrument's borders. Like Charlie Musselwhite, Mr. Platt demonstrates that the blues harp can be right at home in a wide range of material without losing touch with the roots."
Duane Verh
Roots Music Report

---
World of Harmonica
"LOVE IT! Up there with the Very Best Harmonica Albums Ever! There are few who can play the harmonica as well as this world class session harmonica player."
"If I were to go out and buy just one harmonica album, this would be it. And I'd sit it comfortably next to such classics as Jimmy Smith and Miles Davis."
Shaun Luke
World of Harmonica

---
Blues Magazine
"Roly Platt is intense, melancholy and swings – simultaneously. Advice: Play the whole CD."
Patrick Struijker Boudier
Blues Magazine – (The Netherlands)

---
John Emms – Blues and Roots
"There is a purity of tone and feel good presence on Roly Platt's debut cd Inside Out that just makes you want to play it time and time again."
John Emms
Blues/Roots Blogger

---
---
Session Work:
"I've only recently discovered Roly and his fantastic playing. I needed a harp session in a hurry here in the UK, and although half a world away, Roly did the most amazing e-session for me in superquick time, recorded a superb performance, and I now have his number on speed-dial ! He was extremely easy to communicate with, and very easy to work with regarding arrangement directions. I can't recommend him highly enough and I know we'll work together again soon."
Matthew Cang
Guitarist, Writer, Producer Bath, United Kingdom
---
"When it comes to harmonica I don't use anybody else, period!"
Orin Isaacs
Owner / Music Director – Swing Low Productions Toronto, ON
---
"Roly Platt is one of the most naturally gifted musicians I know. Just like McCartney, he doesn't read music. And…like McCartney, he's the master of his musical universe. Roly kicks the doors off any lick, melody, or science experiment with a confident elegance that makes his music so very perfect. In every note, you hear decades of practice. And in every space, endless experience. This guy is a master. Do yourself a favor and put him on your gig. Whatever the style or part, Roly Platt is sure to make your music just that much better. Working with Roly is smooth and easy too. His process is efficient and he aims to please. His studio is state of the art and you'll be guaranteed delivery of the highest quality audio in whatever form necessary. Again, do yourself a favor you'll never regret."
Carl Lenox
Owner / Musical Director – Mountain Dog Music
---
"I have worked with Roly Platt for over 30 years in many different musical situations. He is a first class musician and a first class human being. He's worked for me on a wide variety of recordings (records, jingles, tv shows) and is always an inspiration and a positive influence on whatever project he's involved with. He is, simply put, one of the best musicians I have ever worked with. He's blessed with amazing technical skills but he also has great taste, feel and musical instincts that can't be taught at any school. These are things you're either born with or not, and Roly is one of the best natural musicians I've ever worked with. I've recommended him to all of my friends in the Toronto studio scene and they all love him and his playing. The only problem with Roly is that after you hear him play on one song, you immediately want him to play on every song you're recording. He's that good!"
Mike "Pepe" Francis
Guitarist / Producer / Music Director
---
"Roly's greatest assets are his versatility and musical intuition. We've hired him for scores of sessions over the past 30 years and he's always delivered beyond our, and our clients' expectations – adding his unique style to every project. Whether it's country, blues, R&B, bluegrass or rock, Roly's playing "fits" and clients love him. He's fast, can take direction well and truly plays amazingly."
Chad Irschick
Owner / Producer – Inception Sound Studios Toronto, ON
---
"Roly is simply the greatest harp player anywhere."
Tim Thorney
Writer / Producer
---
"He was a good boy – always polite and well mannered."
Mom
---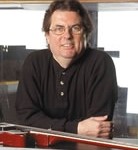 "I have worked with Roly Platt for over 30 years in many different musical situations. He is a first class musician and a first class human being. He's worked for me on a wide variety of recordings (records, jingles, tv shows) and is always an inspiration and a positive influence on whatever project he's involved with. He is, simply put, one of the best musicians I have ever worked with. He's blessed with amazing technical skills but he also has great taste, feel and musical instincts that can… Read more
Mike "Pepe" Francis – Guitarist / Producer / Music Director